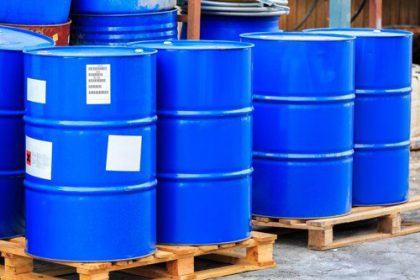 Following 'safety first' processes and procedures can prevent catastrophic disasters in the event you are handling hazardous materials in your chemical logistics network.  3PL's and shippers who use 3PL's to warehouse chemicals and hazardous materials should operate with a complete mindset toward the prevention of spills and accidents.
After more than 20 years of operating in the logistics networks of leading chemical companies, I took pause to think about the best practices in hazardous material handling that I've learned.  Whether you're a 3PL looking to improve your performance, or a chemical company training your employees, I'm pleased to share a series of "Safety First" recommendations with you.
"Safety First" is a simple, easy way to remember a list of important hazardous material handling tips for the chemical logistics industry.  To learn more about the full list of "Safety First" Tips published by LeSaint, download the full "Safety First" Tip Sheet now.
For today's topic, I'm going to focus on the tip related to:
SEGREGATE AND STORE all materials in accordance with the instructions on their Safety Sheet and product label.
Let's start with 'segregate' first.   As a general rule, oxidizers, corrosives, compressed gases, toxics, and flammable or combustible liquids should always be segregated.  There can be a violent reaction between the following combinations of chemicals:
Flammables, detergents and soaps

Acids, oxidizers and water treatment chemicals such as lubricants, oils and heavy metals

Paints, thinners and corrosives or oxidizers
Also keep in mind that toxic gas generation will form if you mix pesticides or fuels with corrosives or oxidizers.
The amount and types of hazardous materials that can be stored safety almost always involve following  specific guidelines from the National Fire Protection Association (NFPA), as well as your local municipality building code requirements.  Make sure to meet all requirements and check with your local Fire Department as well.  If you store amounts that exceed the allowance levels for specific hazard storage lockers, keep in mind that you will have to meet all guidelines, obtain permits, and be inspected before being authorized to store the materials.  To this end, specific chemical storage rooms require specialized design and equipment, such as lighting, ventilation, fire extinguishers, aisle space, and automatic fire suppressant methods.
As a best practice, always read Section 7 of the SDS Handling and Storage which gives guidance on the safe handling practices and conditions for safe storage for various types of chemicals.
Let's now turn our attention towards 'storage.'
When material arrives at the warehouse, it should be individually evaluated to determine where and how it should be stored.  A Safety Data Sheet (SDS) must be received and retained on file for any products that go into storage.  Read the SDS carefully to ensure the material is stored properly per Section 7 Handling and Storage.  The SDS will also give you the proper Personal Protective Equipment (PPE) that should be used when handling the materials, as well as spill cleanup materials to have on hand, which can be referenced, respectively, in Sections 8 Exposure Controls/Personal Protection and Section 6 Accidental Release Measures.
The material/product labeling should be carefully reviewed, especially  to ensure proper labels are on the containers in the first place.  In the SDS, Section 2 Hazard Identification shows what hazards pictograms should be on the GHS label and Section 14 Transport Information will give the hazard class, UN Number, and Proper Shipping Name that should be on the label.   In total, there are 8 GHS Identifiers that the label should have:
Chemical Name

Product Identifier

Signal Words

Hazard Statement

Precautionary Statement

First Aid Statement

Supplier Identification

Pictograms
Lastly, Section 15 of the SDS Regulatory Information should be evaluated to see if the product has any reporting requirements that you should be aware of.
At LeSaint, we go one step further.  We also check the Emergency Planning and Community Right-to-Know Act (EPCRA) "List of Lists" to see:
Keep in mind that some Extremely Hazardous Substances (EHS) are required to be reported within 90 days of storage to such entities as the:
Local Emergency Planning Committees (LEPC's)

State Emergency Response Commission (SERC)

Local fire department(s)
On an important note, Ammonium Nitrate requirements have been adjusted and it must now be reported within 72 hours of receipt.
Finally, there are also over 300 chemicals listed on the Chemical Facility Anti-Terrorism Standard (CFATS) "Chemicals of Interest (COI) List published by the Department of Homeland Security (DHS).
To determine if you've come into possession with a chemical on the list, you can cross-reference a product's CAS# or chemical name against DHS' Federal Register entitled Appendix A to Part 27 – DHS Chemicals of Interest list.  
Facilities that come into possession of Screening Threshold Quantities (STQ) of DHS Chemicals of Interest (COI) must report their holdings to DHS within 60 days by filing a Top-Screen survey.  By filing your Top-Screen survey, DHS will know the Tier level and security issue of the product, which could be different types, such as Release, Theft, or Sabotage.  Then, you will be required to file a Site Security Plan (SSP) or Alternative Security Plan (ASP) for the facility that addresses and fully satisfies the 18 Risk-Based Performance Standards (RBPS) for the Tier level defined.  From there, DHS will schedule and conduct a compliance inspection and validate all measures listed in the SSP or ASP on record.  It has generally been my experience that DHS works collaboratively with you and shares resources to help you throughout the process.   To this end, DHS's goal is likely not to find issues and fine your business, but rather, to work with you to define/plan measures for you to reach compliance. If, however, you do not meet compliance after putting a plan in place, you could most certainly be assessed fines and incur follow-up inspections.  
On a side note, a Chemical-terrorism Vulnerability Information (CVI) protection regime was put in place to protect information from inappropriate public disclosure.  You must become CVI authorized to discuss certain facts of COI you are in possession of.  You must confirm another person's CVI authorization number before entering into any COI-related discussions.
This blog post is the first in a series about "Safety First" Tips for handling hazardous materials in the chemical logistics supply chain.  Guest author is Melody Moore, Director of Operations at LeSaint Logistics, specializing in the safe, responsible movement of chemical products throughout logistics networks.  Ms. Moore has played an instrumental role in LeSaint becoming Verified for Responsible Distribution by the National Association of Chemical Distributors (NACD).  She actively advocates for responsible chemical distribution with Congressional and other regulatory bodies at the local, regional and national levels.