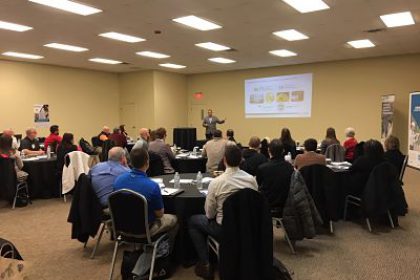 Last week, LeSaint Logistics hosted a special, one-day workshop in conjunction with the National Association of Chemical Distributors (NACD).  The workshop highlighted the integral role internal audits play in continuous improvement of your supply chain and distribution operations, as well as various other aspects to a Responsible Distribution program.  There were several topics highlighted, including:
A deep dive into the requirements of Code X: Internal Audits;

Hands-on training on what is expected for conducting internal audits

Tools and takeaways for how to improve an internal audit program
Workshop attendees ranged from only having one facility to multi-site operations, and many use contracted warehouses operated by third-party logistics companies like LeSaint.  The workshop featured Responsible Distribution Adviser Peter Downing of Environment and Safety Solutions, Inc., and Caroline Kramer, NACD Manager, Responsible Distribution, in addition to Dino Moler, LeSaint's EVP of Client Solutions.
Dino Moler welcomed the 35 attendees and 2 facilitators by kicking it off with a presentation from LeSaint's premier warehouse, distribution and fulfillment facility in Bolingbrook, Illinois.
In commenting about the event, Mike Lang, Vice President, Responsible Distribution at NACD said:
"I want to thank Dino and the entire LeSaint Logistics team  for hosting the Responsible Distribution Internal Audits workshop!."  
LeSaint partners with the NACD to raise awareness and educate members and supply chain practitioners the chemical industry about the role of Responsible Distribution in logistics and transportation.  LeSaint has received NACD Verification for Responsible Distribution, after undergoing rigorous inspections and audits for achieving the highest standards and processes in chemical operations.
Click to learn more about LeSaint's solutions in the chemical industry.