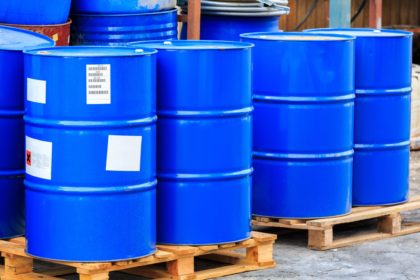 Have Emergency Procedures in place to prevent catastrophic accidents, such as spill or leaks while handling hazardous materials in your chemical logistics network
In today's post, we continue our quest to educate chemical logistics professionals with 'Safety First' processes and procedures for preventing disasters caused by spills and leaks.  "Safety First" is a simple, easy way to remember a list of important hazardous material handling tips for the chemical industry.  To learn more, download LeSaint's full "Safety First" Tip Sheet now.
Today's featured Safety First Tip is about Emergency Procedures.  Formalizing, documenting and training for the emergency procedures to be followed in the event a spill or accident does occur, is a critical aspect of ensuring quick mitigation.  
What are some of the indicators you could be lacking the right levels of visibility in your transportation network?
Preparation for an emergency situation is paramount.  Therefore, we recommend and actively train our employees using table top exercises to simulate real situations that could occur in the chemical storage facility.  As part of the simulation, we:
Assign roles to the situation and act out what each person would do in the event of an emergency.  A few examples roles could be an employee moving materials into a storage area, and an onsite emergency coordinator.

Participants write down notes and re-visit the simulation steps to identify how the situation could have been done better.

An actual mock emergency using the table top exercise is then launched, and each person acts out their assigned role.

The situation response is reviewed again, to find additional areas for improvement and to reinforce the process and roles.
These types of exercises play a critically important role in preparing employees and raising their readiness levels for an emergency situation.  Further, studies show that people are able to remain calm in an emergency situation if they have gone through simulation exercises before a real emergency occurs.
In addition to table exercises and simulations as outlined above, there are several pre-emergency preparations you should enact now, such as:
Identify, stock and actively wear all recommended PPE protective gear wherever chemicals are being handled.

A hazardous material spill kit should be located nearby areas where chemicals or hazardous materials are being handled.  The spill kit should be stocked with clean up materials in the general area for which it is stored.  There should also be a Spill Kit Checklist.

Perform an audit of the spill kit monthly to ensure all materials for a cleanup are stocked inside.  Along with this, you should have materials within the warehouse such as sand or vermiculite to use in many different types of spills to help absorb the liquid. For an acid or citric spills, be sure to have a neutralizer such as sodium carbonate on hand.

An overpack(s) should also be in storage for accidental releases and clean up materials.  You will need an overpack for the actual material that is cleaned up along with the container it was packaged in.  A separate overpack for the cleanup materials themselves is also important.  The overpack container must be labeled appropriately with hazardous materials stickers and interior contents.  As well, it should be labeled for RCRA (Resource Conservation and Recovery Act) waste and stored properly until picked up for waste disposal.  Follow all RCRA regulations which are federal law to manage the hazardous and non-hazardous waste disposals.
LeSaint operates several storage-only environments, where we are not mixing chemicals or filling containers per say.  However, no matter the potential for direct exposure to hazardous materials or the nature of handling chemicals, accidents can and may still occur.  For this reason, it is important to be prepared for any emergency under any condition.  For example, LeSaint employees are trained in Title 49 in the Code of Federal Regulations (a.k.a. 49 CFR), no matter how limited their exposure is to chemicals and hazardous materials.
When an emergency does occur, we recommend following emergency procedures such as those outlined below:
If there is anyone injured, attend to them first. 

Alert the designated emergency coordinator and/or back up coordinator immediately to let them know what has occurred.

Take action, even before the emergency coordinator arrives, to:

If not already in use, put on all necessary PPE protective gear immediately.  This could include clothing, eye protection, foot protection, and gloves.  

Stop the leak or spill in a manner that would not compromise require touching the hazardous material.  Do so in order to contain the free flow. 

This could mean turning a drum onto its side that has been punctured, with the puncture area to the top; or turning over a pail that has a small hole in 

the bottom.  The point is to try to stop more product from coming out, without compromising risk of contaminating yourself in the process. 

Turn off any ignition sources if a flammable material has spilled.

If there is a drain, place the drain cover over it quickly to not allow the material to enter the drainage system.

Once the emergency coordinator arrives on scene, they will instruct on further instructions for any injured employees and/or spill cleanup procedures.

The coordinator will pull the SDS (Safety Data Sheet).  Refer to the following SDS sections:

#4 for First Aid Measures – for anyone that may have been splashed or inhaled product

#5 Firefighting Measures – Tells what type of extinguishing media is suitable.  IMPORTANT:  Note if water cannot be used on this type of chemical or if it will have a reaction

#6 Accidental Release Measures – This will provide recommendations on the appropriate response to spills, leaks, or releases.

#8 Exposure Controls/Personal Protection  – This section indicates exposure limits and personal protective measures such as what type of respiratory to use, specific type of skin protection (gloves) and face or eye protection.

#13 Disposal Considerations – Provides guidance on proper disposal practices

#15 Regulatory Information – This section identifies the safety, health, and environmental regulations specific to the product that are not indicated anywhere else on the SDS.  If the product has a reportable quantity to a government entity, it will be listed in this section.  Note:  If the product is an EHS (Extremely Hazardous Substance) there are reporting guidelines to the EPA (Environmental Protection Agency).  As well, Chemicals of Interest have guidelines to Homeland Security and carry separate guidelines for reporting, plus many more. 

Access the Hazardous Material Spill Kit and the Spill Kit Checklist, which should be available as part of your pre-emergency preparations.

Erring on the side of caution, it is important to make a careful judgment call if the building or geographical area needs to be evacuated.  

Further, if there is fire, and it is too large for you to extinguish with the portable fire extinguishers located nearby, then contact 911 immediately. 

In the case of a corrosive spill, be sure to contact a hazardous spill team that has experience handling those types of materials.
This blog post is the second in series about "Safety First" Tips for handling hazardous materials in the chemical logistics supply chain.  
The first blog post focused on the top 5 tips for segregating and storing chemicals and other hazardous materials.  It can be read here. 
About the Guest Author:
Melody Moore is the Director of Operations at LeSaint Logistics, specializing in the safe, responsible movement of chemical products throughout logistics networks.  Ms. Moore has played an instrumental role in LeSaint becoming Verified for Responsible Distribution by the National Association of Chemical Distributors (NACD).  She actively advocates for responsible chemical distribution with Congressional and other regulatory bodies at the local, regional and national levels.