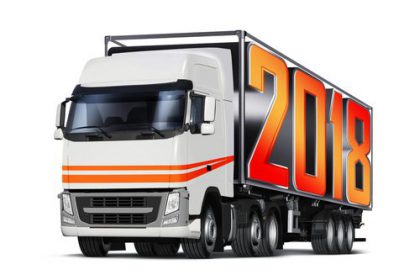 Uncertainty in the supply chain will spur investments in supply chain visibility and monitoring technologies. While supply chain visibility is among the Top 3 Priorities for supply chain professionals globally, only 6% can actually claim full visibility, according to a 2017 survey by GEODIS.   
With 2018 upon us, we've taken a moment to reflect on what 2018 could hold for the supply chain industry and the customers we serve.   So, today, we're making our first 2018 supply chain prediction. Here it is:   Uncertainty in the supply chain will spur investments in supply chain visibility and monitoring technologies.
Dating back to 2013 and even earlier (yes, that was 5 years ago!), supply chain professionals have been on a quest to gain better supply chain visibility.  Consider these findings from a 2013 KPMG study:
49 percent globally; 54 percent U.S. manufacturing executives admitted that their companies currently did not have visibility of their supply chain beyond Tier 1 suppliers.

Only 9 percent of the 335 global respondents said they had complete visibility of their supply chains. That number was even lower among U.S. executives, with only 7 percent claiming complete supplier visibility.

44 percent of respondents overall said they still use email, fax and mail as the means to communicate issues about demand in the supply chain.

9 percent globally and 7% of US executives said they were able to assess the impact of a supply chain disruption within hours and a whopping 62% said it would take them 1-14 days to do so.
For additional information, you can read more about the KPMG study.
This begs the question:  Has the supply chain industry closed these visibility gaps in the last 5 years?  
I was surprised to learn that a study completed just 6 months ago by GEODIS shows that the answer is a resounding "NO".    In fact, while supply chain visibility remains among the Top 3 Priorities for supply chain professionals globally, only 6% can actually claim full visibility, according to the GEODIS study.  One could conclude that the circumstances and conditions cited in KPMG's 2013 study remain largely unchanged.  
CPG and retail guru, Ken A. Harris, Jr., Managing Partner of Cadent Consulting Group, shared this perspective at LeSaint's Customer Forum recently:  
"For most Consumer Packaged Goods (CPG) firms and supply chain executives within them, we are operating in an age of great uncertainty amidst omni-channel fulfillment demands….. This is not to be confused with change or even concepts surrounding omni-channel fulfillment, because most companies are resigned to the reality of change and multiple channels as ever-present.  Uncertainty goes deeper.  In addition to the new political climate, uncertainty stems from the rapidly evolving business model fueled by the internet across procurement, supply chain and retail (ie. online, brick & mortar, etc.). Further, consumer messaging through social and digital media has disintermediated organized business and supply chains, make visibility and technologies even more critical."  (Read more)
With a supply chain environment filled with more uncertainty than ever before, it should come as no surprise that shippers and 3PL's alike are seeking out technology that goes above and beyond traditional needs. For example, tracking where a shipment was in the process of delivery 'real-time' has traditionally been a core feature of TMS technologies.  Today, new technologies are emerging that allow shippers to dynamically re-route shipments in transit.  As another example, on-time performance has historically been a critical reporting measurement.  In today's transportation technology landscape, however, driver compliance with Hours of Service and forecasting future shipment needs/performance are also critical metrics for shippers.   At LeSaint, for example, we're making investments in these technologies more than ever before.
Join the conversation:  What steps are you taking to gain better supply chain visibility in 2018?   
Get more tips about supply chain visibility from our recent blog post at:  https://www.lesaint.com/blog/industries/consumer-packaged-goods/transportation-visibility-5-questions/
Note from the Editor:  This is the first blog post in LeSaint's 2018 Supply Chain Predictions series.  Stay tuned for what supply chain practitioners should do about these trends — and more —- coming in future posts.
Guest Author: Guest author of today's blog post is Dino Moler, Executive Vice President of Client Solutions at LeSaint Logistics, where he is responsible for developing creative, customized logistics solutions that reduce total logistics costs, free up working capital and improve customer service.  Dino serves as Chairman of the Board of Directors for the Transportation Marketing & Sales Association, and actively participates in logistics industry associations and events.