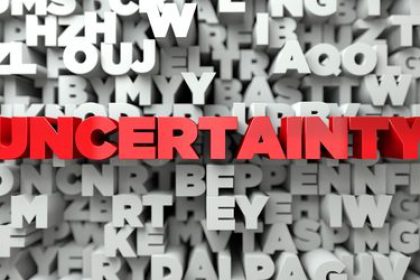 For most Consumer Packaged Goods (CPG) firms and supply chain executives within them, we are operating in an age of great uncertainty amidst omni-channel fulfillment demands…..
This is not to be confused with change or even concepts surrounding omni-channel fulfillment, because most companies are resigned to the reality of change and multiple channels as ever-present.  Uncertainty goes deeper.  In addition to the new political climate, uncertainty stems from the rapidly evolving business model fueled by the internet across procurement, supply chain and retail (ie. online, brick & mortar, etc.). Further, consumer messaging through social and digital media has disintermediated organized business. 
There are harbingers of change like Amazon, who have multiple models that consumers seem to love but can create difficulty for the manufacturers who sell to them.  Uncertainty also plays a significant role in jobs such as Forecasting.  In spite of better data tools to manage the process, it can nevertheless be highly unpredictable (and even irrational!), driven by customers who do not seem to have a strong handle on their needs.  SKU proliferation emerges, because of the newly prescribed customer needs and retailers attempts to differentiate themselves from competitors.  It also increases the importance of geo-targeting, changing the ways retailers and manufacturers work with each other to reach the common consumer. 
By now, you're probably asking yourselves questions such as:  
How are companies dealing with Amazon from warehouse order-to-consumer purchase and who is doing it well?

How has forecasting changed and what tools are (really) working well?

How are companies dealing with slower growth in Brick and Mortar retailers and their demands for customization? 

How are companies best using social media and digital marketing, is it really working?  Who is doing it well?

How advanced and widespread is the use of geo-targeting consumers and which verticals are benefitting from the use of this data?

Has the political climate changed the preferred company type where people want to work.  Ie. is there a migration back to the safe-harbor of larger business entities or are smaller, aggressive and nimble firms still attracting talent?

Which industries/manufacturers/retailers are truly working together to collaborate and address consumer needs most effectively?  What general principles can we learn from them?
I would assert that amidst these questions, which often have complex and uncertain answers, it's still the fundamentals.
With the retail and CPG environment changing as rapidly as it is, it is hard to keep up with what's important. In a presentation at a Nielsen conference earlier this year, Jet.com CEO, Marc Lore described the fundamentals of success for e-commerce. They are as follows:
You have the product

The consumer can find the product

The consumer has the right information about the product

The price for the product is right

You deliver the product on time
If these observations appear to be remarkably conventional, they are.  The same fundamentals for e-commerce success are the same fundamentals for all retail success.
For CPG companies who have been paralyzed to move to online in some material way, this should be good news.  The speed of change makes the sense of urgency for the move to online real.  There is no time to waste; now is the moment for online sales and e-commerce.
At the risk of adding to the hyperbole, the Amazon–Whole Foods purchase has served as a shot across the bow for many CPG firms to begin taking online seriously.  Here is why this matters:  Amazon will continue to fast map learn on brick-and-mortar and begin to add services such as already announced Geek squad-esque home installation.   Competitive retailers – in this case Best Buy, counters with their Geezer Squad to reinvent home monitoring for the elderly.  Amazon pares by challenging conventional retailers to play on Amazon's terms online and in-store. And on it goes.  CPG firms can't relate and improve in the game if they have chosen not to play in the game.
What many do not realize is that Amazon's endgame has nothing to do with the specifics of brick-and-mortar retail or service.   Rather it is their singular, relentless focus on customers that drives the organization.  Specifically, Amazon is a sophisticated supply chain that happens to sell all manner of goods.   In fact, at some point in the future, I predict (rather boldly!) that CPG firms will be faced with the decision to let Amazon handle all of their distribution while they go about the business of marketing, sales, strategy etc.  
Along the way, some industry experts have suggested that real traction for Amazon will begin when they get serious about business-to-business (B2B).  That would include a purchase of a company like W.W. Grainger who is considered to be the "Amazon" of all things for business and office supplies.  Making a purchase like this would send a bigger shock wave through the B2B industry than the Whole Foods deal because the ramifications are even more far reaching.  Think bigger business in a smaller pond.
As if more prodding to take online seriously is needed, Amazon isn't even leading in the space.  To find leaders, we need to go to China where F5, Alibaba, and others are years ahead with concepts like online to off-line to online (OTO). The whole OTO movement removes personal interaction from purchases whether in-store or online and makes the entire process — from thought to search to cell phone — a fully enabled, seamless, efficient and complete purchase path.
What does this mean to us? First and foremost, online initiatives for those companies that have been delaying need to start now. Expectations need to be managed downward so prospects of huge margins and meteoric topline growth are modulated with the understanding that for the first few years online returns will be modest at best. Secondly, for those who already have some business online, nothing will replace persistence, hard work, focus on the fundamentals and initiative to make online successful. Although this makes common sense, because of the newness of online to many, the perception is that it must be different in some way.  Those companies who have succeeded in online describe the same characteristics of hard work that allow them to succeed in other channels of their business.
Finally, if we believe that fundamentals are the key to all retailing success, establishing the simple rules of the e-commerce road will be essential to pierce the vail of online mystery and allow companies to get started.  This is not an afterthought, nor is it the exclusive realm of the small entrepreneurial companies.  Online is real, happening now, and an indication of the future. It's about the fundamentals. Are you ready?
About the Guest Author:
Ken A. Harris, Jr. is a Managing Partner of Cadent Consulting Group, a Marketing and Sales Consulting firm focused on accelerating the growth of its clients.  He is an author and frequent speaker at industry conferences. Ken has line management experience in marketing, trade marketing and sales at Jacobs Suchard and Coca-Cola Foods.  He received his BA from The University of Michigan.  He serves on the Board of The Federal Savings Bank, C&S Wholesale Grocers, Winona Capital Management, and Eternal Water, LLC, Incredible Foods, LLC and Matt's Cookie Company.
Cadent Consulting Group has a unique perspective on the Retail and Consumer Packaged Goods (CPG) industries because the firm works with both manufacturers and retailers.
This blog post was written following LeSaint's Annual Customer Forum, where more than 20 CPG executives shared perspectives on trends impacting their supply chain and business, and how they can take advantage of those trends to deliver a competitive advantage.