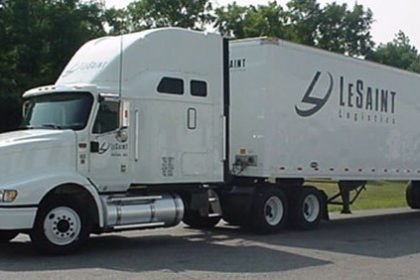 Struggling with transportation visibility?
You're not alone. Only 59% of shippers say they are satisfied with their 3PL's IT capabilities yet acknowledge that visibility is a top tool 3PL's need to be successful, according to a recent logistics study.
According to CSCMP's 2016 20th Annual Third-Party Logistics Study, nearly 80% of shippers outsource domestic transportation to a logistics service provider. As well, 60% of them indicate "Visibility" is a tool a 3PL needs to be successful.
Most would agree that IT and technology platforms plays a major role in ensuring visibility across the transportation network. However, according to the same study, consider for a moment that only 59% of shippers are satisfied with their 3PL's IT capabilities. (See the report here)
In today's post on transportation visibility, Keith Warren, VP of Transportation at LeSaint:
Poses some real-world questions you should be asking yourself about transportation visibility

Shares perspectives on how shippers can improve overall visibility in their transportation network

Gives practical advice on how to make the most of a 3PL partnership to increase visibility over time
Looking for help?
Contact a Transportation Expert
What are some of the indicators you could be lacking the right levels of visibility in your transportation network?
If you answer "no" to any of the following questions, you're likely struggling to understand what's happening in your transportation network:
Can you locate the specific order you need to track?
Do mission critical data points, such as PO #'s, Shipment ID #'s, order reference #'s, etc., in your order management system match data points in your 3PL's system(s)?
Are you able to track freight shipments and get shipment notifications during non-business hours?
Do you receive advance notice that a shipment is delayed, before it's originally scheduled delivery time?
Do you know who is hauling your order/shipment, and can you reach them immediately for status updates?  (It is especially important to ensure that a load is not being double or triple brokered, which could cause you to lose control, visibility and access to the shipment, as discussed further down in this post.)
Are you thinking about transportation visibility both geographically and spatially?
Traditionally, most shippers have focused their efforts on understanding 'geographically' where the physical location of inventory and shipments are.  Geographical location really starts at the moment inventory gets put on a truck or enters the transportation network.  However, 'spatially' having visibility to inventory is equally important.  Spatial visibility has more to do with the overall order management process, and understanding the total lifecycle of inventory from storage to distribution to transportation to returns.  Spatial visibility can help ensure that you have the right inventory ready in the right locations to fulfill orders on the timeline you intend.
Have you assessed the reality of your 3PL partner's capabilities in not only technology systems, but also process?
As a general rule of thumb, many carriers and transportation providers proclaim to have updated, well-maintained trucks, excellent technology for visibility, GPS tracking and a myriad of other capabilities.  Unfortunately, the presence of these things is more aspirational than a reality!  In fact, 90% of for-hire carriers operate 6 or less trucks (according to https://www.truckinfo.net/trucking/stats.htm)  and many of these still have no on board technology supporting them.  As a result, in-transit order and inventory visibility is heavily invested in phone calls and manual checking of where shipments are.
Lack of technology only compounds itself when a carrier or 3PL provider also does not have proven, standardized processes to ensure consistent manual tracking as well.  For this reason, when you're considering a 3PL partner or evaluating the performance of your current one, it's critical to do a thorough assessment to pilot their technology capabilities.  In addition, and as important, is assessing that the 3PL also has the processes in place for managing your network in all areas over time.
Want to experiment with the "Uberization" of freight?  Before taking action, consider these implications to visibility and overall risk first.
When it comes to the ultra hot topic of "Uberization of freight" /online freight marketplace, it's important to remember that in the world of freight brokerage, without first party contracts that enforce accountability it is possible to find your freight double or triple brokered. That simply means your particular shipment gets re-sold to a second carrier, and then re-sold again to a third carrier.  In this scenario, the shipper has no knowledge and very little control over who is actually hauling the freight, and therefore, the quality and trustworthiness of said company.
While the "Uberization" of freight can be enticing from a cost and capacity availability standpoint, it is important to carefully consider that the shipper could potentially lose control over:
The quality or insurance of the carrier
Who is accountable for the load
Claims, thefts and other unexpected issues with the shipment
Price guarantees/consistency over time (ie. each shipment in the same lane could vary dramatically in price over time since each one is bid and shipped 'stand-alone')
What are some immediate actions a shipper can take with their 3PL partner to increase visibility?  
Action #1:  Establish what your visibility needs really are in the first place.  How often do you truly need to know your shipment statuses?  Do you need to know every 24 hours when a shipment has been delivered?  Every hour?  Immediately upon delivery?  Do you need constant shipment monitoring (ie. similar to RFID or GPS tracking, etc.)?  Another way to go about this is to diagnose what caused any recent shipment delays or interruptions, and how visibility could have changed the outcome.
Action #2:  Look to your 3PL partner for technological add-ons that can enhance visibility.  There is never going to be a 100% perfect solution, but if you can find the right provider who has the right base technology tools, the two things working together will give you a very viable solution.
Action #3:  Insist on around the clock access to shipment tracking, status alerts and other visibility-related reports via an online tool that your 3PL provides.  If your 3PL provider lacks such a tool, a workable alternative is to establish a single point of contact who is accessible 24/7 to address your inquiries and monitoring your network.
Action #4:  Ensure your data is consistent across these platforms in your network:  your company's order management system, your 3PL's systems, carrier system(s), and your customer's systems.
Interested in learning more about transportation?
Contact a Transportation Expert
Don't forget to subscribe to the LeSaint blog to receive future posts on controlling transportation costs, best practice case studies from our customers, and more.
Guest Author for this post is: Keith Warren, Vice President of Transportation at LeSaint Logistics
Keith Warren has spent the last 30 years in sales and operations in the Supply Chain industry. Keith's tenure includes CTMS, Schneider Logistics, and MBX Logistics (a division of Martin-Brower). Keith acted as subject matter expert providing key input in design and testing for two of the major players in the Transportation Management Systems marketplace and has managed multiple TMS implementations across several vendors throughout his career. Keith is instrumental in the development of transformational inbound freight management programs for the food service industry that resulted in vastly improved service levels, increased turns and reductions in both cost and safety stocks. Keith graduated from the University of West Georgia and holds a Bachelor's Degree in Business Management.