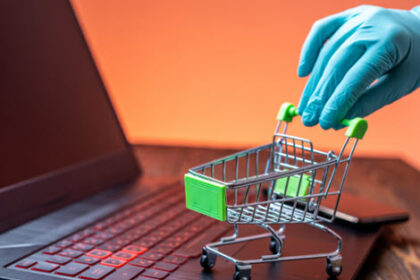 Strategies for smarter ecommerce order fulfillment for packaged good manufacturers and retailers during COVID-19
The COVID-19 pandemic has caused disruption to supply chains at a scale never before seen. But along with the hardships, there have been silver linings to many who have embraced e-commerce and the opportunities that e-commerce order fulfillment provides.
The team members at TAGG Logistics and its subsidiary LeSaint Logistics have been on the front lines of helping many companies scale and start-up e-commerce order fulfillment processes throughout the pandemic. As experts in ecommerce order fulfillment, we see see smarter opportunities to help your business grow.
There's no going back to pre-e-commerce days.
The pandemic has given e-commerce the opportunity to shine, accelerating its importance and adoption. As consumers have made the shift online, companies' success and survival has come to depend on their ability to go where the customers are and adopt an omni-channel model.
To provide some perspective of how much more e-commerce business is being done online during the pandemic: Amazon consumers spend $11K per second, Best Buy's online sales are up 155% since March, according to Digital Commerce 360.
Recent surveys indicate there's no putting the e-commerce genie back in the bottle after this is over, either. An Accenture survey revealed consumers will increase the proportion of online shopping from 32% to 37% after the outbreak.
Smart companies are recognizing that e-commerce will remain a major sales channel for packaged goods manufacturers and retailers. Investments in plant or process will help build future business. However shifting to an advantageous omnichannel model will require more than a website and marketing. Companies need to look at the quality and reliability of their entire supply chain and how to minimize e-commerce order fulfillment costs. That includes logistics and transportation planning as well as multi-carrier parcel shipping strategy.
To succeed, companies will need to develop assets and expertise in these areas, or work with partners who can fill these gaps. TAGG Logistics and its subsidiary Le Saint Logistics recently joined forces to close the loop joining e-commerce fulfillment with a national transportation and fulfillment center network.
Retailers going digital are gaining new customers.
During the pandemic companies have proven to be more loyal to brands than stores, creating a tremendous opportunity for retailers who have the inventory. According to Digital Commerce 360, 30% of consumers shop around to different retailers when their preferred brands are not available. Of the online shoppers who switched during the COVID-19 pandemic, 45% of them said they planned to continue to shop with their newfound suppliers.
A Numerator survey found that three of the big winners were Walmart with 49% new shoppers and 40% repeat shoppers, Target with 29% new shoppers, 25% repeat shoppers, and CVS with 9% new shoppers and 18% repeat shoppers.
The lessons of the pandemic are clear: timely delivery and availability are the price of entry, and once consumers are in the virtual door, provide them with an excellent experience. TAGG Logistics provides omnichannel order fulfillment services customized to support your consumer brand experience with the delivery resources and expertise to ensure same-day fulfillment operations as well as next-day and two-day delivery to most of the U.S.
Omnichannel agility is paying off in the form of click-and-collect.
Whether you call it click-and-collect or buy online/pick up in store (BOPIS), consumers are driving it and retailers are benefitting from it. Three-quarters of consumers recently surveyed by Numerator have placed a ship-to-home order and over one-half have placed a click-and-collect order.
The biggest purveyors of these channels have been some of the biggest beneficiaries: Walmart, Target and CVS. It looks like click-and-collect won't be a passing fad. Although it has gained momentum during the pandemic, Numerator says two-thirds of consumers indicate they'll continue click-and-collect shopping in a post-COVID world.
Meeting the challenging demands of omnichannel consumers requires a fulfillment solution with the facilities, infrastructure and information systems to make it happen. TAGG is here to increase the speed, accuracy and efficiency of every step in the sales process: from ordering to processing to delivery.
Manufacturers score as consumers brand hop.
Supply has been a little funky during the past few months of pandemic. Many products and brands have still yet to make it back to shelves, and consumers have been forced to adjust. Digital Commerce 360 surveys indicate 44% of U.S. shoppers have tried at least one new brand during the pandemic because their standbys are unavailable or delivery would be delayed.
Brand-hopping consumers make this a great time to gain trials, deliver great experiences and win new customers. Remarkably open to new experiences online, pandemic customers are looking for opportunities to buy direct from manufacturers, too. Digital Commerce 360 found 39% would prefer to shop directly on a brand's website rather than a marketplace website.
Subscription boxes are also on the rise. These are a chance for consumers to receive a curated delivery of goods to explore. It's also a chance for brands to strut their stuff. During the pandemic, Klaviyo found twenty-three percent of consumers had recently signed up for a subscription box or program.
So what's it take to leave an impression on consumers that makes them come back? It's more than the product, it's the whole experience. TAGG helps companies create seamless buying and unboxing experiences by handling all the details from website to checkout to door delivery.
Be ready to scale with the right fulfillment model.
As a result of COVID-19, the expected growth of e-commerce has been accelerated greatly, as companies who were or weren't planning on selling online have been forced into action by circumstances.
On top of that, they're also facing unprecedented demand. According to Numerator, households switching to online shopping for staples during the pandemic are making more frequent purchases while spending more per category and per unit.
The sudden growth might feel like never-ending flash sale for retailers. Most traditional consumer packaged goods (CPG) companies aren't built to scale in a hurry. It's costly and complex—especially when it comes to fulfillment. Consequently, the risk is high for companies that choose to perform e-commerce fulfillment by themselves. Companies need to find processes that ensure orders are fulfilled in a timely, accurate manner; bad experiences lead to bad reviews, zero retention and brand damage.
A 3PL that has proven its ability to respond to demand surges and help their clients scale is invaluable. In addition to performing e-commerce fulfillment for some of the most successful companies in America, TAGG also specializes in flash sales—excelling in this high pressure, fast turnaround fulfillment niche.
Mitigate risks by diversifying warehouse logistics and distribution centers.
Hormel is one of many of businesses, manufacturing facilities and fulfillment centers that's faced closures due to a COVID-19 outbreak or local rules.
These events can shut down fulfillment systems and damage brand and business. For CPG companies, diversification is necessary to reduce fulfillment risk. The more fulfillment options you have the less your risk. In addition to spreading inventory, it spreads expertise.
TAGG provides e-commerce services that diversify your fulfillment capabilities among locations. With TAGG, you can put your customer experience in the hands of professionals experienced in the techniques and technologies that support perfect order fulfillment and an experience that bolsters your brand while reducing risk.
The time to build a fulfilling digital supply chain is now.
As our nation continues to grapple with the reality of the COVID-19 pandemic, e-commerce continues to provide consistent solutions for consumers and companies alike. The role of fulfillment has moved front and center, and those companies who are doing it right will continue to have the most to gain going forward.
Let TAGG Logistics and its subsidiary, LeSaint Logistics, help you create a consumer-driven supply chain that prepares you for whatever turn the pandemic and the marketplace may bring.