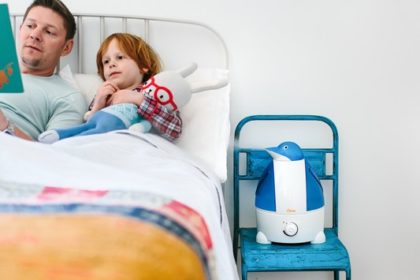 From whimsical animal-shaped humidifiers for children's rooms like penguins, owls and elephants, to products that are ready to use 'maintenance free' right out of the box,
Crane USA's
products truly live up to their philosophy to put "Design for Better Living" into everything they do.

Crane USA's traditional operations started by selling to big box retailers like Bed Bath and Beyond, but the e-commerce segment of the business has skyrocketed most recently. E-commerce shipments have increased over 35% in the second half of 2018 compared to 2017.  Together, LeSaint Logistics and Crane USA are on a mission to streamline processes and reduce order cycle times despite aggressive growth of the e-commerce segment.
"As brick and mortar retailers are shifting purchases to online channels, e-commerce is increasingly important. Lead times are getting shorter and retailer expectations are getting higher," says Dirk Niederman, Vice President and Co-Owner of Crane USA, "We needed a partner that could provide the level of service that our customers need in a new e-commerce economy driven by same-day, next-day consumer expectations."
LeSaint has worked with Crane USA to create a customized solution that meets the company's changing needs.  In California, Crane uses 15,000 square foot of warehouse space to take delivery of containers coming from Crane's Chinese manufacturing facilities into West Coast ports. This facility is dedicated to a single large customer, making it extremely efficient to ship products directly to this customer in the fastest, most cost-effective manner possible. All other customers are serviced from LeSaint's warehouse in Illinois.
Brian Smith, Director of Development at LeSaint, notes, "LeSaint provides Crane the opportunity to service their customers through several sales channels. We ship orders to big box stores via LTL and TL shipments. We also ship parcel orders via UPS and FedEx. This enables them to get products to their customers in a direct and timely fashion."
What's more, the influence of Amazon on the marketplace cannot be overstated. Programs like Amazon Prime have stringent requirements, including that the shipper pay freight costs and guarantee two-day delivery. Crane USA needed a logistics partner that could meet and exceed these demands. Smith says, "LeSaint helps them take advantage of these priority status programs."
A breath of fresh air – transparency that drives best practices  
Crane USA needed what they call a "transparent warehouse" that provides visibility into merchandise, status, condition upon delivery and much more. That is where EDI comes into play. When merchandise comes to the warehouse, LeSaint staff members inspect it and provide a detailed report on what is damaged, then organize repackaging. Each item is marked for repair, re-shelving, salvage or recycling as appropriate.
Once inspected, merchandise is organized and stored in a specially designed warehouse configuration that can address another key need – regulatory compliance. Since many of Crane USA's products are classified as medical devices and regulated by the U.S. Food & Drug Administration (FDA), LeSaint created a process that allows Crane USA to comply with regulations requiring they be prepared in the event of recalls. "We provide tracing capabilities by PO number – both in the warehouse and outbound." Thanks to the EDI integration, we have access to data when we need it, including the status of orders and updates when customers have questions.
Keeping up with the demands of a competitive e-commerce market
Ongoing innovation and growth are supported by LeSaint's proprietary 360 Logic™ program. The LeSaint team's daily start-up meetings provide a way to review metrics, discuss the volumes for the day, and formalize how to manage operations. It is in these important meetings that any issues are analyzed using the root cause, corrective action (RCCA) technique where adjustments or fixes to the process are suggested, discussed and initiated.
This produced a major process improvement for Crane USA's e-commerce orders—a new method to calculate the optimum-sized shipping carton. At the time the order is started, product dimensions are entered, the system tells the user what size box to use for packing and generates a shipping label. "This is a major benefit for e-commerce," says Smith, "Not only does this help lower freight costs, but it shortens the time to complete the order."
Quarterly business reviews provide a forum for staying on track and discussing the future. "We didn't have any KPIs before LeSaint. They have great on-time accuracy and fulfillment rates" says Niederman.
Partnering for continued innovation
The partnership continues to be collaborative and productive. Crane USA is preparing to work with LeSaint on several new initiatives, including warehousing and management of spare parts, expected increases in drop shipments, and expanding the role of the California warehouse to handle more inventory and shipping to more customers.
Dirk Niederman is looking forward to continuing Crane USA's dramatic growth trajectory – and LeSaint is an integral part of his plan. As Niederman says, "I am very thankful for the partnership with LeSaint. They've definitely helped us take our business to the next level."
Learn more by reading the full case study.