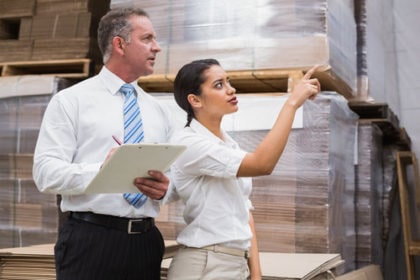 The labor market for supply chain workers will continue to tighten across transportation and warehousing functions. As 2018 unfolds, unemployment rates will remain at all-time lows, causing the labor market for supply chain and logistics workers to tighten.  As a result, shippers and 3PL's alike will need to find new and creative ways to source and retain supply chain labor in all areas of the supply chain included warehousing and transportation.
Today's blog post is the fourth and final one in our series about 2018 Supply Chain Predictions. With unemployment rates hovering around 4%, the labor market for logistics and supply chain roles is tighter than ever.  While most shippers and 3PL's have felt the pain of the ongoing driver shortage for years, the current labor shortage extends well beyond drivers in transportation function to include warehousing functions and beyond. 
Finding and retaining talent in this type of market brings challenges to logistics firms and shippers alike. The perfect storm for a talent shortage has been brewing for a while.  According to an article recently published by Forbes magazine, current labor market forecasts are largely driven by economic growth, which is spurring the creation of approximately 170,000 jobs per month.
On the flip side, it's estimated that about three million people quit their jobs each month; and these trends are expected to continue for the next decade.  
Finally, a closer look at overall Labor Force Participation rates indicate that the US is at its lowest levels of labor participants since the 1960's.   (Learn more at:  https://data.bls.gov/timeseries/LNS11300000)
Further evidence of these overall trends in a diminishing workforce are:
Between July 1, 2012, and July 1, 2013, the U.S. population only grew by 0.72%, the lowest rate since 1937.

The U.S. population is expected to continue to grow slowly and to grow older. During the 2012–2022 period, the growth of the labor force is anticipated to be due entirely to population growth, as the overall labor force participation rate is expected to decrease from 63.7 percent in 2012 to 61.6 percent in 2022.
To further add to the landscape of labor changes, during the Great Recession, large numbers of individuals lost jobs resulting in cohabitation with family and finding ways to live without having to go back to work. In fact, some people have left the traditional labor market altogether. They are now making a sustainable living through self-employment, or by doing things such as reselling items online or working as freelancers for services such as web design, etc.
Ready to learn more about how LeSaint is helping companies navigate through supply chain labor trends?  Download our "Labor Trends and Insights" White Paper now:
Interested in learning more about how these trends are directly affecting the logistics industry?  Stay tuned for our blog post series on Labor Trends in Logistics in the coming weeks.
Guest Author: Guest author of today's blog post is Jennifer Lee, Director of Human Resources at LeSaint Logistics.  Jennifer oversees the strategy and implementation of supply chain labor best practices across LeSaint's customer operations.