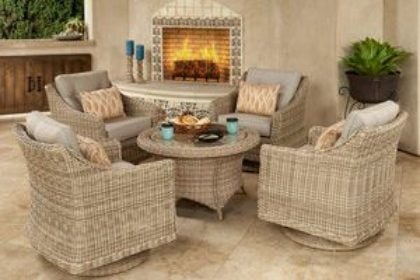 To fulfill its mission, customer service performance is critical for the furniture manufacturer, Northcape. With double-digit growth goals and a wide range of logistics needs, NorthCape was in search of a third party logistics provider (3PL) to integrate their manufacturing and distribution operations.  Learn how NorthCape achieved a 50% reduction in backlog of past due orders and a 15% productivity improvement in outdoor cushion manufacturing.
Unlike traditional client relationships with 3PL logistics providers, LeSaint Logistics manages aspects of manufacturing on behalf of the durable goods company, NorthCape – such as sewing and assembly – beyond just inventory and distribution.
NorthCape is dedicated to providing its customers with high-quality, stylish, comfortable outdoor furniture at an affordable price. The mission is simple: find the perfect balance of classic designs and current trends at an exceptional value.
Since its founding in the 1980's, the company has migrated from sourcing goods overseas, to now manufacturing and assembling products domestically. As a result, customers benefit from shortened lead times and expanded options for balancing inventory during seasonal highs and lows in demand.
A few years ago, NorthCape's management team realized that customer service and operational excellence in manufacturing and logistics were increasingly critical to achieve their aggressive double-digit growth goals.
A Radical Idea: Why Not Consider Outsourcing with a 3PL?
"We had tried several operations management personnel, but none of them really had the leadership or talent management know-how to get done what we needed to," says Tom Murray, president of NorthCape. "We knew, that unless we could become excellent at execution, we were going to have a sunk ship."
"One day, our team was sitting in a meeting, and the idea to outsource some of the operational aspects [of the business] came up. At first, we all thought it was too radical, but the more we talked about it, the  more it seemed like a viable option."
NorthCape set out to evaluate potential outsourced partners. They started with a list of 10 candidates and quickly narrowed it down to three.
"The reason LeSaint stood out is that they were interested in getting involved in the manufacturing side of the operation." This was critical to NorthCape, because they knew they needed operational help, not just distribution help.
Tight Integration of Manufacturing and Distribution Creates Value
Today, LeSaint Logistics operates a 120,000 square feet manufacturing and warehousing facility in Illinois, co-located with NorthCape's corporate offices and customer service team. What's most unique about the operation is LeSaint delivers manufacturing-related services for this durable goods company, such as sewing cushions and furniture assembly, in addition to managing logistics and distribution.
LeSaint also helps NorthCape efficiently manage rapid changes in customer needs and immediately respond to customer inquiries onsite with NorthCape's customer service team.
There are four major aspects to the services that LeSaint provides to NorthCape:
Management: LeSaint provides the leadership expertise to manage the full-breadth of talent and skills for the manufacturing and logistics teams. "LeSaint's been enormously successful at staffing sewers. This is a niche within skilled labor, and the nature of our product makes it even harder to find the right fit." says Murray. "We established standard policies and procedures for how the operation runs, including the area of staffing," says Jim Mackowiak, director of  operations at LeSaint. "There is a 'right' way to do things. Having it documented helps employees and management have a common understanding."
Organization: LeSaint and NorthCape knew they would need to overhaul the current facility – everything from where inventory was stored to re-designing more efficient assembly processes.
Efficiency: LeSaint also established consistent measurements for each aspect of the operation, such as understanding capacity, setting productivity levels by role and function. Examples of metrics they use are:
How much product is shipped for every man hour spent in the warehouse?
How many pillows is a sewer in the cushion factory producing every hour?
In some cases, measurements have revealed the operation required more machinery or that employees needed stronger incentive programs.
Capacity: Putting a cap on fixed costs during as the business grows is important for NorthCape's financial performance.  With LeSaint, NorthCape has added access to capacity – whether that means tapping into new warehouse space or quickly finding labor.
Performance That Counts
With these four critical areas covered, NorthCape has seen major improvements. They've cut the backlog of past due orders in half, and had a 15% productivity gain in outdoor cushion manufacturing. They also consolidated two of their smaller warehouses into the Illinois location, and eliminated the overheads associated with them.
Even more impressive is customer service levels are skyrocketing. This is in large part due to shortened lead times and NorthCape's increased ability to quickly react to customer inquiries. "When customers feel comfortable knowing they'll get predictable service, they're willing to buy more" says Murray.
Expectations for tighter deliveries and better service are not going away with NorthCape's customers anytime soon. In fact, they rely more and more on NorthCape's inventory capacity and want to balance inventory better as seasonal demand fluctuates.
With the Illinois facility up and running successfully, Murray is able to focus on customers and spend less time on the details of the operation. "My advice: it's a solid year of investment to get acclimated with your partner, so make the investment up front and know it will pay off."
Results at a-Glance
The NorthCape and LeSaint partnership has resulted in:
50% reduction in backlog of past-due orders
15% productivity improvement in outdoor cushion manufacturing
Improved customer service from tightly integrated manufacturing and distribution
Eliminated overhead by consolidating two small warehouses, while still expanding the business
To learn more about this customer service, manufacturing and distribution success story, read the full case study now.