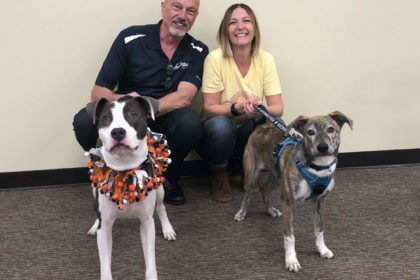 November 15, 2019
Romeoville, IL
– LeSaint Logistics, an Illinois-based company specializing in customized, integrated supply chain solutions, has championed the largest fundraiser of its kind last month at the
Garrido Stray Rescue Foundation (GSRF)
, with a mission of giving rescued pets a Happy HOWL-o-ween.
LeSaint employees, friends, vendors and clients gathered for an on-site fundraiser in Bolingbrook Tuesday, October 29th – enjoying lunch, greeting and rallying around this amazing cause.  As a result of their efforts in and around HOWL-o-ween week, the team has exceeded their wildest expectations by raising in excess of $20,000.
The Garrido Stray Rescue Foundation (GSRF) rescues and rehabilitates abused, neglected and homeless animals, helping them find their "fur-ever" families.  The founders, Anna and John Garrido, are two ordinary people doing extraordinary things, dedicating countless hours and nearly all of their 'off work' time to operating GSRF.
"They have no facility or formal funding so they depend on LeSaint, Niles Animal Hospital, and organizations like them to financially support finding homes for these animals.  I am proud and humbled by the outpouring of kindness and generosity from our employees, partners and customers for this great cause," comments Jeff Pennington, President at LeSaint.
"On behalf of our organization, we wish to thank LeSaint Logistics for coordinating and launching such a successful event!  Your efforts raised the most money of all GSRF fundraisers we have had in the past, and we are beyond blessed by your team of supporters and partner," says Anna Garrido.
—————
If you haven't had a chance to give, it's easy!    
1. CHECK/BY MAIL
:  You can also donate by mail.  Simply make a check payable to: Garrido Stray Rescue Foundation (reference LeSaint in the memo line) and mail it to:  5310 N. Harlem Ave. Suite 210, Chicago, IL 60656
2. ONLINE DONATIONS:
Go directly to
https://www.garridostrayrescue.org/donate
to pay via paypal directly to GSRF.
3. For questions or additional details, you may contact Marketing Manager, Jodi Cape at: 
jcape@lesaint.com
.
About LeSaint
LeSaint Logistics as an Americas-based 3PL that specializes in customized, highly client-centric supply chain solutions.  Our approachability and deep engagement in solving our clients' daily challenges permeates all we do. We power our client's supply chains with proven 360Logic™ to uncover value through efficiencies, freeing up capital and ultimately, making your end customer happy.
http://www.lesaint.com
Contact
For media and press relations at LeSaint Logistics, please contact
Jodi Cape, Marketing Manager