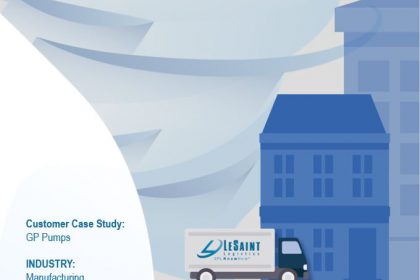 When natural disasters like Hurricane Dorian occur, flooding is a major reality for homeowners and communities.  During these times, setting up emergency transportation to get pumps, equipment and other relief supplies into local retail stores fast becomes critical for GP Pumps and their third-party logistics provider (3PL) LeSaint Logistics.
Working hand-in-hand with the GP Pumps logistics team, LeSaint arranges for emergency transportation to deliver goods to local retail stores, largely leveraging established relationships with transportation carriers who have available emergency capacity in key markets where pumps need to arrive on store shelves fast.  LeSaint arranges for the delivery of orders for GP Pumps "Total Pump Installation Packages" which can include pump kits with numerous parts and accessories. This means careful coordination of order building in the warehouse, in addition to arranging for the emergency transportation and same-day order pick-up within 12-24 hours.  A sample timeline for the fulfillment of orders using emergency transportation arrangements can be explored further by downloading the full case study.
Year-to-date, LeSaint has achieved a 99.71% On-time shipping success rate for all orders (emergency transportation-related and otherwise), which surpasses the goal of 98%.   
Get help with your emergency transportation needs this Hurricane season from LeSaint's transportation experts. Visit:  https://www.lesaint.com/solutions/freight-brokerage/