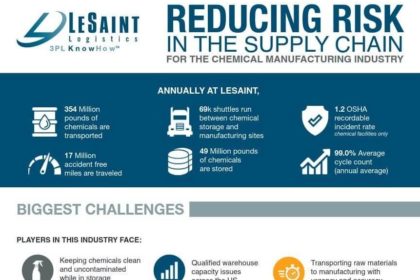 LeSaint Logistics offers safe hazmat storage and hazardous material handling for chemical supply chains with fulfillment centers in Dallas, TX; Duncan, SC; and Columbus, OH.
Safe hazmat storage and hazardous material handling are no easy tasks in today's modern chemical supply chains.  Some of the complexities associated with hazmat storage include:
keeping chemicals clean and uncontaminated
finding qualified fulfillment centers with capacity that meets the specifications you require
handling the diversity of requirements for chemicals in a wide range of categories such as polymers, resins, monomers and intermediates.
Add to these complexities the mounting compliance and regulatory requirements that must be met at national, state and local levels across the Southeastern and Southwestern US, as well as in the Midwest.  Needless to say, it can be challenging to find a 3PL fulfillment center that can successfully manage hazardous materials.  LeSaint has designed our fulfillment centers and related processes to help you overcome this challenge in these key locations:
Here are the top reasons you get safe hazmat storage and hazardous material handling for chemical supply chains when you work with us:
We help you reduce risk in your chemical supply chain, by complying with national, state and local regulations in the areas of chemical product tracking, chain of custody and more.  This helps avoid fines and other financial penalties that could be imposed from regulatory entities in areas such as Dallas, TX, Duncan, SC and Columbus, OH.
We train fulfillment center employees and staff in how to handle hazardous materials, as well as OSHA processes.  This helps reduce and eliminate costly accidents in the fulfillment center where your chemicals are stored, or example, in an area like workmen's compensation claims.  It also reduces the risk of contamination when your chemicals are handled correctly in a clean, well-managed fulfillment center.
We act as your single 3PL partner, which reduces the number of touchpoints in your chemical supply chain and offers more consistency in how hazmat storage and hazardous material handling occurs.  We manage our product flows from coast-to-coast, from raw goods to finished product distribution.  Our nationwide network has featured fulfillment center locations in Dallas, TX, Duncan, SC and Columbus, OH and we can act as your transportation broker for chemical shipments as well.
We are NACD Verified.  As the industry's leading "gold standard' for chemical distribution, the National Association of Chemical Distributors (NACD)'s Responsible Distribution verification is an environmental, health, safety and security program with a 25-year track record for improving safety and performance. To achieve it, LeSaint was verified through a mandatory third-party audit. By passing the audit, we have proven our ongoing commitment to performance in every phase of chemical hazmat storage, hazardous material handling, transportation and disposal.  Key benefits of working with a fulfillment partner with Responsible Distribution by NACD include:

Lower safety and environmental incidents
Better documentation of company policies and operational procedures
Best practices of excellence in quality and systems
Reduction in audit costs and time spent on audits
Reduction in insurance expenses and other risk-related expenses.

We have a proven track record of performance in chemical supply chains, including:
354 Million pounds of chemicals transported annually, including 17 million accident-free miles traveled
Achieved 1.2 recordable incident rate with OSHA in our chemical fulfillment centers
Store 49 million pounds of chemicals each year
Learn more about how LeSaint Logistics, and our parent company, TAGG Logistics,  help with safe hazmat storage and hazardous material handling in this infographic.
Access the infographic now: