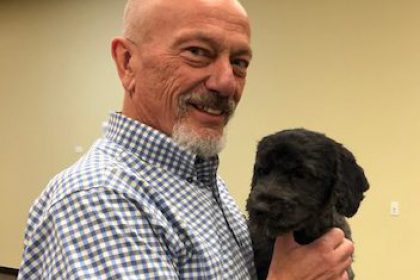 LeSaint logistics is kicking off the holiday charity fundraiser by collecting donations for the Garrido Stray Rescue Foundation. With the holiday season upon us, and giving in the air, LeSaint has chosen to help the Garrido Stray Rescue Foundation by collecting cash donations to help those that cannot help themselves. In 2017, John Garrido and his wife Anna, along with the support of the Niles Animal Hospital and The Dog House LC & L, decided to take their love of animals to the next level by creating the Garrido Stray Rescue Foundation (GSRF).
The Foundation supports "no kill" community coalitions that are committed to reducing the number of cats and dogs in the community who are at risk of becoming lost, abandoned, or relinquished to shelters. GSRF generates fundraising efforts for medical, foster, and adoption expenses for the animals. Currently, GSRF has 21 animals who are looking for their furever homes, some of which are being fostered back to health prior to adoption.
LeSaint kicked off the initiative on Monday at their Romeoville facility with John and Anna Garrido, along with their team, who brought in 5 dogs. Four of the dogs are currently up for adoption and enjoyed their 3-hour visit with LeSaint employees who shared their time and love for all the animals. During lunch, John spoke on the foundation, how it operates, and shared a few horrific stories behind the initial condition of the animals when they were brought in.
"It's terribly heartbreaking to see how animals are mistreated, and even left for dead. Some of the animals are badly in need of medical treatment, and to see how the Garrido Stray Rescue Foundation cares for them, nurses them back to health, and either reunites them with their lost families or finds new homes, is truly amazing; it shows how big their hearts are there. It is my hope that our LeSaint family can make a difference in the rescue efforts of these animals and so many others at the Garrido Stray Rescue Foundation by making a little contribution during the holiday season," stated Jeff Pennington, CEO of LeSaint.
"We couldn't be more grateful to Jeff and his team at LeSaint Logistics for making our Foundation the beneficiary of their holiday charity event this year," says John Garrido, Founder of the Garrido Stray Rescue Foundation. "Shadow, Nina, Marilyn, Laidee, and Helen had a blast with the employees of LeSaint. Thank you to Nikki and Andrea for helping manage the pups." 
If you would like to make a donation to LeSaint's fundraiser for the Garrido Stray Rescue Foundation, please contact Jodi Cape at jcape@lesaint.com. Donations are also accepted directly to the Garrido Stray Rescue Foundation by emailing them at garridostrayrescue@gmail.com or by visiting them on Facebook at GarridoStrayFund or on Paypal.