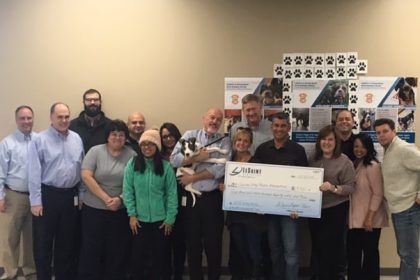 Since Thanksgiving, LeSaint Logistics and its clients, employees and suppliers have been working hard to give pets happy holidays through the Garrido Stray Rescue Foundation. To date, the efforts have raised over well over $5,000 to support pet rescues, finding happy homes and returning animals to good health. Here are a few more details:
LeSaint employees have raised $5,000 from employee donation drives and events
An anonymous donation of $1,000 was received
Supplier donations were given by Sol de Naples Marketing and Accurate Staffing, donating $250 and $500.
LeSaint's client Fruitables, an innovator of advanced nutritional dog treats, donated 6 pallets containing over 600 boxes of dental doggie treats.  1 pallet was sent to the 16th District Chicago Police Department to be shared with local rescues and the remaining 5 pallets were sent the Chicago Animal Care and Control to be shared with even more rescues.
Wells Marketing has teamed up with LeSaint to design a new, donation-friendly website for the foundation in early 2019
In commenting about LeSaint's efforts, founder of the Rescue Foundation, John Garrido says:
"We couldn't be more thankful to Jeff Pennington and his team! The generosity from so many people to help us with our mission to help animals in need is humbling. We are so proud to be part of this amazing network of animal lovers and couldn't have imagined the support we are getting when we started this Foundation."
The Garrido foundation had the opportunity to return to a LeSaint Logistics facility earlier today with their official ambassador and little fury friend, Freddie. John and Freddie were ecstatic to accept an official check and also learned of LeSaint's efforts to build a host a new, donation-friendly website for the foundation. "Thank you!!!! and Happy Holidays!!!!" barked Freddie! Watch more in this video.
Interested in joining our efforts by making a donation to the Garrido Pet Rescue Foundation? Donations are accepted directly to the Garrido Stray Rescue Foundation by emailing them at garridostrayrescue@gmail.com or by visiting them on Facebook at GarridoStrayFund or on Paypal. You may also contact Jodi Cape at LeSaint Logistics at jcape@lesaint.com