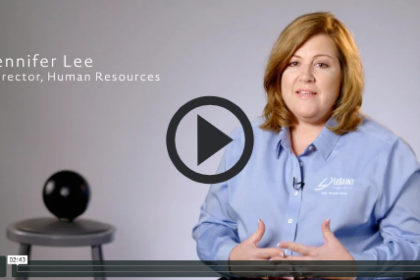 As we arrive at the midway point of 2019, a critical topic that continues to be top-of-mind for warehousing and transportation professionals is the state of the supply chain labor market.  Earlier this year, we published a white paper that discussed many trends and insights for the Supply Chain Labor Shortage.  By way of an update, we decided to sit down with Jennifer Lee, Director of Human Resources at LeSaint.

Today, we're sharing her perspectives on what's new:
QUESTION:  Unemployment remains at its lowest levels ever, holding strong for more than 18 months now.  What are the biggest drivers of low unemployment that you're seeing?
Jennifer's Perspective:  The biggest driver of low unemployment is that the economy itself is in a better state than it was in prior years.  Low unemployment is just one of many positive indicators that the economy is doing well at this stage.
In fact, the economy has been doing very well when it comes to transportation and logistics.  According to the Wall Street Journal, "spending on transportation, inventory-carrying costs, and other shipping-related expenses as a share of gross domestic product last year reached its highest level since 2014."  But a decline is expected on the horizon…. Read the article to learn more.
QUESTION:  When it comes to the supply chain, what positions and roles are the toughest to fill?  Why?
Jennifer's Perspective:  There's no question that the driver shortage is perhaps the biggest labor challenge we've ever faced in the industry.  The American Trucking Association now estimates that we'll be short 175,000 truck drivers by 2026, according to this article by TruckDriverSalary.com.  Beyond that, we're also finding at LeSaint that skilled roles, such as Material Operators (ie. forklift operators, equipment operators, and shipping and receiving personnel) as well as Customer Service roles are difficult to fill right now.  With customer service in particular, customer accounts vary widely in the type of support required, making it difficult to standardize the job descriptions as well as training programs.
QUESTION:  What are some of the most recent trends you've seen emerge in the last 6 months when it comes to supply chain labor?  What's 'new on the scene' that is worth noting?
Jennifer's Perspective:  Partly driven out of the overall lack of labor availability in the market, we're seeing a big jump in exploration and adoption of emerging technologies in the warehouse.  One example is identifying manual, labor-intensive tasks that can be performed in the future using robotics and automation. (Here's a great article by SupplyChainDive.com that talks about what should be automated, and frankly, what probably can't be!)   In some cases in the short-term, the cost rationalization still does not support the investment in such technologies, but in the longer-term, as the technologies scale and labor rates continue to rise, I believe these types of technology will become more and more mainstream.
Another area where we see an emerging need for labor and skills is related to supply chain visibility.  Increasingly, we need logisticians and other highly-educated labor resources to help understand visibility methods and technologies.  Their ability to connect what they learn real-time with the supply chain operation and also proactively re-design the supply chain altogether are important emerging skills that our clients need from LeSaint.
QUESTION:  When a client decides to outsource to LeSaint, what aspects of LeSaint's labor program are most compelling to them?
Jennifer's Perspective:  Our clients have often decided to outsource to us because we have smart, cutting-edge labor programs that outpace what they could achieve inside their own companies.  One such program custom-designed by our human resource and logistics professionals at LeSaint is called LEAP – LeSaint Efficiency and Accountability Program.  LEAP is a comprehensive program that sets and tracks productivity measures, rewards employees for hitting productivity goals and ties those things to client expectations.  Our Labor Management System (LMS) is the technology program that helps us monitor LEAP, and measure the goals as work is completed. Both play a significant role in helping clients rest-assured LeSaint is delivering best-in-class labor practices to their operations.
QUESTION:   If you had a crystal ball, what do you think the next year holds for the supply chain labor market?
Jennifer's Perspective:  I believe there will be continuous and expanded growth in the need for 3PL's and 4PL's.  Shippers and manufacturers are faced with so many opportunities for innovation, shifting consumer needs and preferences and so much more.  To focus on those areas of expertise and opportunity, they will increasingly outsource non-core functions for supply chain, warehousing, and transportation to providers who can perform those particular business functions better and smarter.
About Guest Author, Jennifer Lee
Jennifer Lee joined LeSaint in 2005 as the Director of Human Resources and previously worked for IMC Holdings, an International Manufacturer and Distributor of Industrial Truck Parts, for 10 years in Human Resources. Jennifer's role is in strategic-level Human Resources management with a strong track record of managing start-up operations, employee conversions and supporting significant growth. Jennifer's responsibilities include directing initiatives in areas such as employee relations, employee communication, policy and procedure development, vendor contract negotiations, conflict resolution, compensation, benefits, recruiting, hiring, performance management, training, and employee development.
LeSaint Logistics is an Americas-based 3PL that specializes in customized, highly client-centric supply chain solutions. Our approachability and deep engagement in solving our clients' daily challenges permeates all we do. We power our client's supply chains with proven 360Logic™ to uncover value through efficiencies, freeing up capital and ultimately, making your end customer happy. Learn more here.