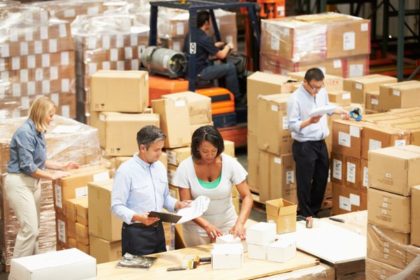 This blog post is the first in a series that explores trends and insights for the Supply Chain Labor Shortage.
WITH UNEMPLOYMENT RATES HOVERING AROUND 4%, THE LABOR MARKET FOR LOGISTICS AND SUPPLY CHAIN ROLES IS TIGHTER THAN EVER
Finding and retaining talent in this type of market brings challenges to logistics firms and shippers alike. The perfect storm for a talent shortage has been brewing for a while. In fact, according to an article recently published by Forbes magazine, current labor market forecasts are largely driven by economic growth, which is spurring the creation of approximately 170,000 jobs per month. On the flip side, it's estimated that about three million people quit their jobs each month; and these trends are expected to continue for the next decade. (Conerly, 2017)
As of January 2019, the U.S. unemployment rate is at 4%. (BLS, 2019) This exceeds full employment, indicating the unemployment rate is at or below the "non-accelerating inflation rate of unemployment (NAIRU) – the lowest possible rate that will not cause inflation. The Congressional Budget Office lists current NAIRU at 4.6% which means the U.S. economy is well below that. (Danziger 2018)
LOWER POPULATION GROWTH COMBINED WITH DECREASING LABOR PARTICIPATION RATE ARE HAVING A DRAMATIC EFFECT
Since the heyday of the baby boom, population growth has slowed dramatically. Contraction of the labor force is a trend that will continue. In December, the U.S. Census Bureau showed the national rate of population growth is at its lowest since 1937 – at only 0.62 percent for 2017-2018. (U.S. Census Bureau, 2019)  The U.S. population is expected to continue to grow slowly, to grow older, and to become more racially and ethnically diverse. "Since the end of the recession in 2009, the rate has declined by another 2.5 percentage points, registering 62.9 percent in 2014. The labor force participation rate is projected to fall another 2.0 percentage points, to 60.9 percent, in 2024." (Toossi, 2015)

A drop in the labor participation rate compounds the problem. By taking a look at the Labor Force Participation rate, it goes without question that the US is at its lowest levels since the 1960's.  (BLS, 2019) This is forecast to continue. According to the Federal Reserve Bank of San Francisco, the nation's overall labor force participation rate will reach a mere 61.0 percent by 2026. (FRBSF, 2018)
DEMOGRAPHIC AND GENERATIONAL SHIFTS ARE CHANGING THE FACE OF WORK
As Baby Boomers are entering retirement, Millennials – defined as those born between 1980 and 1996 – are now the largest segment of the workforce at 38 percent. (Gallup, 2016) Gallup's 2016 report, "How Millennials Want to Work and Live" outlines several defining characteristics and facts about Millennials:
They are open to changing jobs. Sixty percent say they are open to different job opportunities – the highest percentage among all generation in the workplace. These opportunities are not within their current company: 93% reported leaving their employer the last time they changed roles, with only 7% taking a new position in their current company.

They aren't engaged. Seventy-one percent are either not engaged or actively disengaged at work, representing the least engaged generation in the U.S. Moreover, engagement is essential to retaining employees. Further analysis reveals that 47% of actively disengaged Millennials strongly agree that they will switch jobs if the job market improves in the next 12 months, compared with 17% of engaged Millennials.

They are "consumers" of the workplace. They look for the jobs that align with their needs and life goals, making it critically important for employers to understand what makes their company appealing.

They are heading off to college right out of high school. Considering the minimum age to become a commercial truck driver is set at 21, most graduates have already made career choices by the time they reach that age. (

Mauer, 2017

).
Millennials are multi-faceted and value a deep mix of on-the-job dynamics that are a tall order for any employer to fulfill. The Gallup report goes on to say, "The strongest companies will understand how to both recruit and retain Millennials," whose criteria for employment are different than those of past generation.   
Finally, Millennials are the most likely generation to look for and change jobs, Gallup cited that 21% percent of Millennial workers left their job in the last year to do something else, a number that is more than three times higher than that of non-Millennials who report doing the same.
The report goes on to say that, "Millennials are a flight risk, making it absolutely vital for organizations to understand how to engage and retain employees [in this generation]."
TODAY'S LABOR FORCE HAS MORE OPTIONS FOR EARNING A SUSTAINABLE INCOME THAN EVER BEFORE
In 2018, Americans quit their jobs at the fastest rate since 2001, showing that workers feel so confident in the economy, that they are willing to leave one company for another. (Bartash, 2018) To further add to the landscape of labor changes, during the Great Recession, large numbers of individuals lost jobs resulting in cohabitation with family and finding ways to live without having to go back to work.
In fact, some people have left the traditional labor market altogether. This new "gig economy" is broadly defined as "a free market system in which temporary positions are common and organizations contract with independent workers for short-term engagements." (Tech Target, n.d.) This includes employment through online platforms like AirBnB, Uber, Lyft, Upwork and more. They are now making a sustainable living through self-employment, or by doing things such as reselling items online or working as freelancers for 'pay-by-the-drink' services in nearly every industry.
The Bureau of Labor Statistics released an update of the Contingent Worker Supplement (CWS) in 2017. The CWS measures contingent and alternative work arrangements – the government's measure of the gig economy. According to the report, 10.1 percent of the workforce was engaged in alternative arrangements. 3.8 percent was engaged in contingent arrangements.
Given the declining number of workers, the change in expectations, and more types of employment options, the next blog post will explore what these trends mean for companies whose supply chain is critical to business success.
Can't wait until then?  We've got your covered. GET ALL YOU NEED TO KNOW about the Supply Chain Labor Shortage in this WHITE PAPER: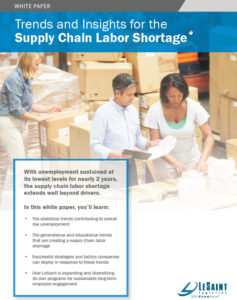 Guest Author of today's post is Jennifer Lee, Director of Human Resources at LeSaint Logistics.  Learn more about Jennifer's perspectives and advice for supply chain labor in our resource library. 
Sources cited in today's blog post can be found on the last page of the white paper, downloadable here.