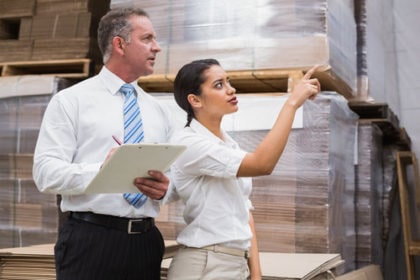 This blog post is the third in a series that explores trends and insights for the Supply Chain Labor Shortage.
THE IMPACT OF THE SUPPLY CHAIN LABOR TRENDS
According to an article in Supply & Demand Chain Executive, "companies are losing money as their shipments fall prey to disruptions both unforeseen and avoidable—and much of it comes down to not having enough qualified people making invaluable decisions."
Yet, in many cases, managing the supply chain is critical to business, but not the focus of a company. For instance, a food and beverage manufacturer's primary business is making products and marketing those products. Warehousing and logistics are key to the success of the business, yet not necessarily a core competency of that business. As it becomes more and more difficult to find qualified, willing workers, staffing these positions across the board can consume more and more company resources.
In an economy and an industry where competition for employees is fierce, this makes outsourcing an excellent strategy to minimize the difficulty and costs associated with finding and keeping quality employees. For a 3PL, logistics and warehousing are the heart and soul of their business. Their success over the long-term rides on being able to find and hire workers with the right skills, and retain them. So they make it a top priority.
When investigating a potential 3PL partner, it is critical to have visibility into how they recruit, train and onboard, as well as how they retain employees. Asking prospective 3PL partners how they fulfill the expectations of the modern workforce, allows a company to better gauge and evaluate prospective 3PL partners.
At LeSaint Logistics, we invest in sourcing, training and retaining supply chain employees, which allows our customers to focus on other critical aspects of their business.  Finding employees in a tight labor market requires thinking outside traditional channels – and finding creative recruiting methods is critical. In fact, having a comprehensive, innovative recruiting strategy can attract higher quality candidates. Some examples of ways LeSaint is evolving and advancing its recruiting tactics include:
Social media. Facebook, LinkedIn Recruiter, Craig's List are all ways to reach tech-savvy candidates.
Radio. Radio offers new flexibility to reach prospects based on any method of listening to the radio.
Proximity targeting. Active web blasts alerting prospective employees that the company is hiring can be sent to those traveling within a certain distance of facilities.
Job fairs. Job fairs offer an effective way to communicate the feeling and culture of a company to prospective applicants in an era where there are few opportunities to communicate face-to-face.
Productive partnerships. Finding applicants for hard-to-fill jobs through building community partnerships can be productive. For example, LeSaint has partnered with driver training schools to find new truck drivers.
EMPLOYMENT IS AS MUCH ABOUT ENGAGEMENT AS IT IS ABOUT RETENTION
LeSaint recognizes that short-term motivators like higher pay, lower cost benefits, and employee perks are what employees may initially be enticed by.  However, the company invests in long-term motivators that can enhance the entire employee experience, including onboarding and beyond. When looking for a 3PL partner, ask what they do at each of these important stages of the employee lifecycle:
Robust onboarding. The first 90 days is critical to build a connection with new employees. LeSaint begins a cycle of regular communications designed to make each new hire comfortable from the beginning. They hear from Human Resources, their hiring manager, and can view videos of LeSaint before they even step in the door. LeSaint wants new hires to have a good understanding of our culture, our benefits and about our core values before they walk in the door.
To allay first day anxiety, it is a good idea to provide FAQs to answer common questions: the map and address of the building, where to park, what to wear, where to store their lunch, who will meet them on their first day, who their trainer will be and more.
The all-important first day on the job. A complete itinerary for the first day at work is a way to make a new employee feel part of the team immediately. At LeSaint, we provide a training buddy that shows them the ropes – from using their email and other internal systems, to a tour of all the facilities they may need to access.
Management and HR communication. A new employee's manager should be given a detailed checklist of the things a new employee should know – and Human Resources works with the manager to ensure that this is accomplished. In addition, throughout the first six months at LeSaint, employees receive a series of formal check-ins to see how they are acclimating. This is an excellent opportunity to reinforce the culture of the company, benefits, and other programs. Adding a human touch and building community. Regular events that build a sense of community among employees can be effective in creating stronger engagement. LeSaint plans ten events each year that offer a chance to foster connections with each other and the company. From cookouts to the annual Employee Appreciation Day, these events are extremely popular company-wide.
"We've taken a very proactive approach at LeSaint to identify candidate characteristics that align with our culture of service and integrity, and then reinforce those characteristics through a pleasant yet fast-paced onboarding program. On the flip side, we find that employees who do not match up well with our culture move on to other opportunities — sometimes quickly! And that's a good thing, in our opinion" says Jennifer Lee, direct of human resources at LeSaint.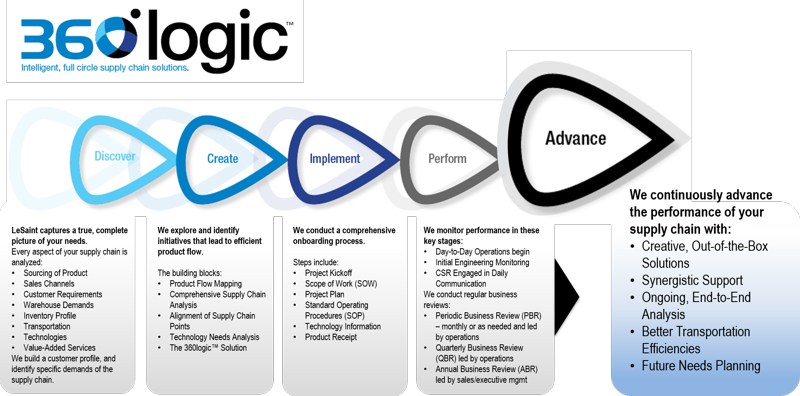 Putting a strong emphasis on our corporate culture overall and connecting core values with how employees perform to their specific job functions in day-to-day work is of critical importance. All of this is incorporated into LeSaint's Performance Management processes and systems, much of which follows its 360Logic(™) methodology.  We've seen great results in employee retention levels from:
Creating a caring family type atmosphere
Getting to know our employees and what makes them satisfied
Introducing flexibility in terms of employee needs by offering a variety of options (i.e. opposite of 'one-size-fits-all' for benefits and perks)
Creating a more comfortable and trusting atmosphere between employees and management
Carefully harnessing insights from employee surveys to learn what matters most to employees
LeSaint strongly believes that mitigating labor trends can best be accomplished through productive, happy employees who are ready, willing and able to satisfy our customer needs every day.
CONCLUSION
The shortage of labor has no end in sight – and the largest segment of the labor force has different behaviors and expectations than those in the past. Outsourcing to a 3PL is a smart strategy for companies facing difficulty in recruiting supply chain staff, or experiencing high turnover rates. For those considering this option, it is important to conduct a thorough investigation of the recruitment and retention programs of possible partners to ensure that the company provides a workforce that can deliver the kind of service they require.
Want to know more about the population trends driving the supply chain labor shortage?  There are two additional posts in this series at:
Post 1:  Unemployment at sustained all-time lows for nearly 2 years. Click here to read.
Post 2:  The impact of the diminishing labor force on the logistics industry. Click here to read.
GET ALL YOU NEED TO KNOW about the Supply Chain Labor Shortage in this WHITE PAPER: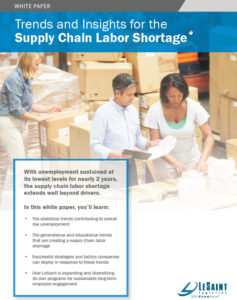 Guest Author of today's post is Jennifer Lee, Director of Human Resources at LeSaint Logistics.  Learn more about Jennifer's perspectives and advice for supply chain labor in our resource library. 
Sources cited in today's blog post can be found on the last page of the white paper, downloadable here.