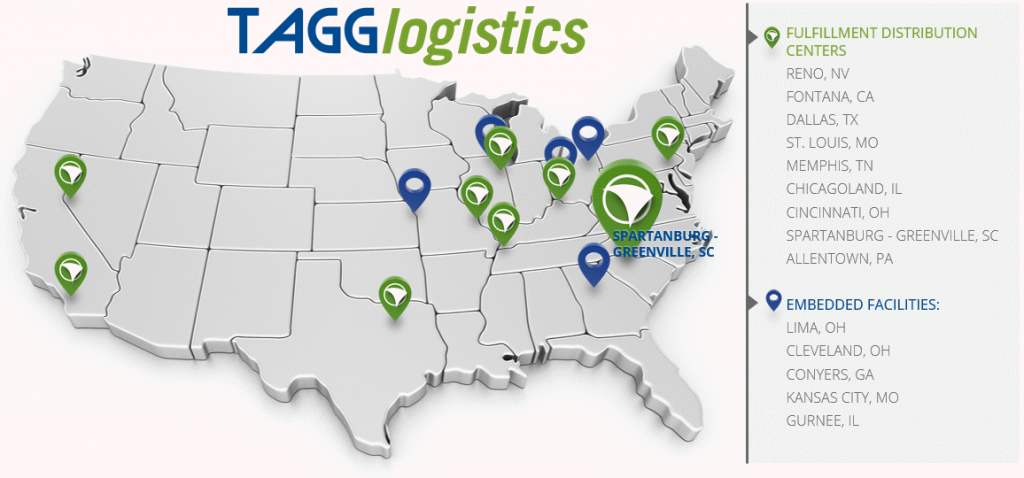 Today, TAGG Logistics, who acquired LeSaint Logistics in 2020, announced that its Duncan, South Carolina fulfillment center has moved to a new location with a warehouse now located near Greenville, SC. The new address is 423 Apple Valley Road, Duncan, South Carolina 29334.
The new Duncan, South Carolina fulfillment center location near Greenville, SC offers a variety of new features and capabilities perfectly suited for ecommerce fulfillment, and is the latest strategic move in TAGG's nationwide order fulfillment center network.
Key order fulfillment center features include:
In summary, the Duncan, South Carolina fulfillment center is ideally suited to serve local consumer markets with same-day-next-day shipping to north Georgia, North Carolina, South Carolina, Tennessee and Kentucky. It rounds out TAGG Logistics' nationwide fulfillment center network with 9 strategic locations to reach 99% of the US population within a 2 day shipping window. You can count on TAGG to take Your Business Everywhere™.
Interested in fulfilling your products from the Duncan, South Carolina location?
Contact Us Now