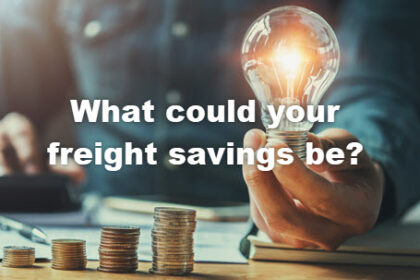 TAGG Logistics, parent company to LeSaint Logistics, a leading Transportation Broker, offers competitive freight quotes as part of a total eCommerce order fulfillment solution. TAGG Logistics recently helped a new prospect from a major company with a highly competitive transportation freight quote. The customer is a global supplier  in North America, Europe and Asia with a diverse portfolio of products and a multi-channel sales approach.  This contributes to a complex ecommerce fulfillment and transportation broker operation. As a result, they are constantly monitoring potential increases in costs and delivery times.
Benefits of TAGG Logistics Transportation Freight Quotes:
First, they were able to develop a baseline for their overall transportation management footprint.  By taking a look at their average daily order volume and the average shipping rate per order, TAGG helps them establish a baseline for current transportation spend annually.
Second, working with TAGG, they have substantial opportunity to reduce overall transportation costs.  With the baseline transportation spend in hand, they were able to compare their average shipping rate per order to TAGG's negotiated rates with FedEx shipping.  This yielded a whopping 60% average transportation savings per order!
Finally, together, the TAGG and customer's team have expanded to multipoint fulfillment by optimizing ecommerce outbound shipping. For example, instead of sending shipments from a single, centralized fulfillment center in St. Louis, Missouri, the client now has flexible options to ship from the:
Which fulfillment center location they choose can dynamically change based on the needs of their business and largely depends on the fastest possible way to make consumer deliveries across the country.  TAGG Logistics, in essence, allows them to take Your Business Everywhere™.
When companies like this one work with TAGG as their logistics broker and dedicated solutions engineer, they get flexible options for the partnership, where they can scale savings over time.  For example, when this company works with TAGG in a 3 Year contract, they stand to save upwards of $430,000 over the three year period.  But, if they don't want to make that long of a time commitment, their savings in year one is still significant, although more modest, at $172,000.
About TAGG Logistics:
TAGG Logistics, parent company to LeSaint Logistics, is a nationwide fulfillment, distribution and packaging provider built to deliver Your Business Everywhere™ by efficiently serving consumers when, where and how they shop today. Consumers want a seamless retail experience, regardless of where they visit a brand; brick and mortar stores, online websites, through mobile devices, social channels and more.  TAGG helps deliver this brand experience through order fulfillment solutions.