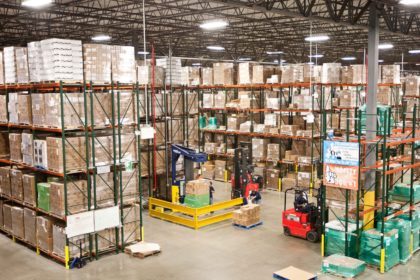 Romeoville, IL – LeSaint Logistics, an Illinois-based company specializing in customized, integrated supply chain solutions, is continuing to grow its operations and increase its national network serving clients throughout the Southern United States.
With more than 175 warehousing clients nationwide, LeSaint has expanded its operations to position its clients closer to manufacturing and our customer's customer in a strategic move to align business practices and reduce distribution costs.  "We have recently opened new facilities in three locations: Atlanta, Georgia; Garland, Texas and, coming soon, Kansas City, Missouri.  These locations will better serve our client's growth in the CPG/Retail and Chemical industries.  The new facilities will offer a variety of services, such as warehousing, order fulfillment, value-added-services and dedicated transportation, to support our clients growth as they expand and align their businesses in these regional markets, " states CEO, Jeff Pennington.   "Today's modern supply chains are highly dynamic, and companies choose us because we help them keep pace with change."
These expansions will add more than 430,000 Square Feet to LeSaint's operational footprint and will take place in strategic regional markets across the Southern portion of the United States.
"Companies of all sizes choose to do business with LeSaint because of the investments we've made in not only our operational capabilities, but also the technologies that help them serve their customers faster and better," states Dino Moler, Executive Vice President of Client Solutions. "These expansions give LeSaint's valued clients access to even more innovative solutions, and enable them to advance their supply chains through our proprietary 360Logic™ process."
With a comprehensive suite of supply chain solutions, LeSaint helps clients execute with efficiency and accuracy in warehousing, fulfillment, and transportation solutions. LeSaint has been helping companies create value through exceptional supply chain design and execution since 1983.
LeSaint Logistics as an Americas-based 3PL that specializes in customized, highly client-centric supply chain solutions.  Our approachability and deep engagement in solving our clients' daily challenges permeates all we do. We power our client's supply chains with proven 360Logic™ to uncover value through efficiencies, freeing up capital and ultimately, making your end customer happy. Learn more here.
Contact
For media and press relations at LeSaint Logistics, please contact
Jodi Cape, Marketing Manager
Jcape@lesaint.com