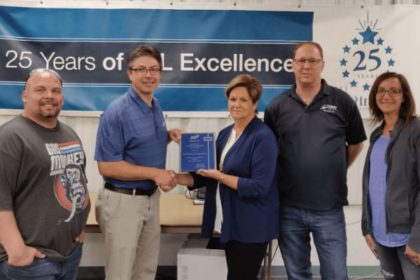 With more than 175 warehousing clients nationwide, LeSaint was recognized for below industry-average safety incident rates, particularly in the areas of OSHA incident rates and for having no OSHA citations for the year reviewed.
Manpower Lima presented LeSaint with its Safety Partnership Award on July 13, 2019 for its commitment to a safe work environment.  "LeSaint has a longstanding partnership with Manpower, and we're proud that our commitment to a safe workplace for our employees and customers has resulted in this recognition," says Jesse Aiken, General Manager of LeSaint Operations in Lima, Ohio.
LeSaint uses a variety of tools and processes in its warehouses to achieve an efficient, safe workplace.   One such program is the company's proprietary 360Logic™ process, which is designed to continuously improve day-to-day operations and advance their customers' supply chains.  LeSaint has also achieved NACD Verification for Responsible Distribution, which is the chemical industry's leading 'gold standard' for chemical distribution.  Responsible Distribution is an environmental, health, safety & security program with a 25-year track record for improving safety and performance.
LeSaint Logistics as an Americas-based 3PL that specializes in customized, highly client-centric supply chain solutions.  Our approachability and deep engagement in solving our clients' daily challenges permeates all we do. We power our client's supply chains with proven
360Logic™
to uncover value through efficiencies, freeing up capital and ultimately, making your end customer happy. Learn more:
http://www.lesaint.com
For media and press relations at LeSaint Logistics, please contact
Jodi Cape, Marketing Manager